In this new era, the internet has become more than just a mean of gaining information. It has become something else, so big that people can spend hours sitting in front of the computer and neglect their daily chores, assignments, works, studies and etc. Some even forgot to eat, go to the toilet, forgot the date and even forgot to feed the pet. Or water the plants. This phenomena derived from a social networking website called Facebook. Recently Facebook has changed the layout and ALL OF US totally hated it. But did the layout changed to the previous one? No. Most of us are already used to it and will be until they decided to change the layout, again. Does the lousy layout makes the users stop using Facebook? Certainly not. It's not judged from its appearance but more for its applications. Users don't really spend hours stalking their crushes, commenting pictures, liking statuses or reading more about certain people's conversation (that's stalking!). The hours spent on Facebook is mostly on the games and applications that attract our interest. Facebook games are mainly the reason of sleeping at the most odd hour (for me).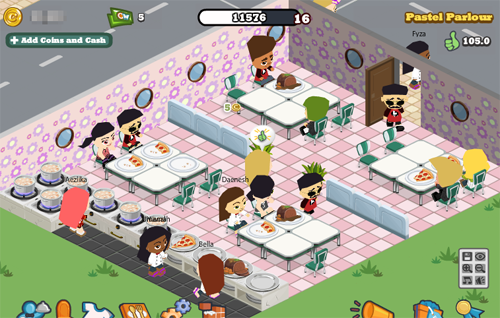 Cafe World, a game produced by Zynga is one of the most played game with 28,707,412 (as of today) monthly active users. If you have played Restaurant City before, the first thing that'll come in mind is "Pfft, another restaurant game? Boring!". Yes, that was
my
reaction. My restaurant in RC was so overloaded with furnitures and stuffs, that moving them around in the big place became so tedious. They should have the
"clear all"
function for editing the restaurant. Back to CW, the game is more than just decorating or leveling up the menus. Here, you can actually do the work of a chef by choosing your own menu (more menus as you level up). EXP can be gain with each steps of cooking, cleaning and visiting your friends. So far, my favourite game in Facebook.