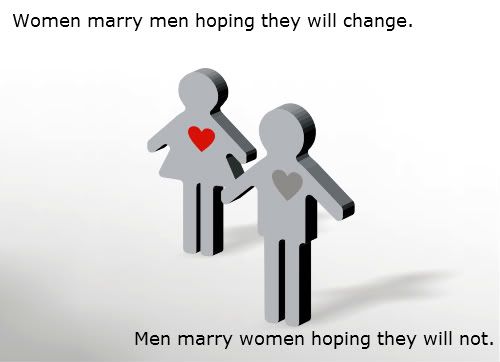 So each is inevitably disappointed...says Einsten.
From experience, I'm not suitable to be the love guru or give any advise or even question anything about relationships. But what I do know is, experience is the best teacher. If you still haven't learn from your (or their) mistakes, then you've learn nothing at all. You must've been a dumdum (read: dumb). Falling in love is not just about loving each other tenderly, promising that this is forever; because you don't know the meaning of forever and you're not God. So, you don't know who you're destined to be with. Therefore, stop bullshitting your partners. Stop making promises about the future because you don't know what's gonna happen next. Let say karma's a bitch and you'll get hit by a truck tomorrow, so where's your forever now? *OMG TOUCH WOOD!*

Everyone wants to have a partner in their life but how ready are you to be commited? The long hours of crying and screaming and shouting and cursing. Are you ready for all that? Some of you have been blinded by the good side of love that you oversee this negative part. Of course, there will always be arguments in relationships. If you don't argue, then something must've been wrong with you and your partner. Ah, I've lost my point. Dammit. Oh, yea. My point is...if you want this just for fun and laughter or just to show off to others, then might as well quit it right now. What goes around, comes back around. If you play someone's heart today, you'll be played in the future. Happy endings are just for fairytales. If you've got your happy ending now, well looks like you've played your cards right.
Girls/ladies are known to be sensitive and emotional. A man is what we need in our life, not a boy. Where have all the true gentlemen run off to? Why does men like to curse and swear barbarically when they're in an argument? Ok, fine maybe not most of you.

Boys/Men...well another God's creation. And us girls still know nothing about you and your hidden agenda :(
p/s: from the point of view of a pessimist, because what we need is someone to say 'what if' and not 'you'll be fine, trust me'..cuz that's just bs :P